Embroider Bee





All designs are the property of Embroider Bee, Inc. and copyright protected
We have been doing commercial embroidery for over 10 years and specialize in artistic and breed accurate dog embroidery. We are known for our attention to detail -- that means offering a great looking shirt with high quality embroidery designs stitched with the right colors and thread that gives the design a special touch. We travel to select National Dog shows with the two "portable" embroidery machines and our show dogs. Two are Grand Champions and one was the first place Rough Collie Stud Dog in 2015, and the youngster finished at 17 months, so we understand the importance of breed type, a pretty face, and sound structure. We strive to interpret these qualities with an artistic flair in our embroidery designs and crystal accents. Your item can be customized with a kennel name, typically in beautiful gold metallic thread. .
Our real passion is developing dog designs. We study the breed -- reading standards, lugging cameras to dog shows, visiting breeder web sites, and talking with everyone. After months of learning and design, we introduce the new breed at Nationals. The last week of preparation introduces the butterflies which only get worse during the drive to the show and setting up the booth: did we get it right? There is no tougher critic than Nationals participants, and we are thrilled when they tell us that we "got it right."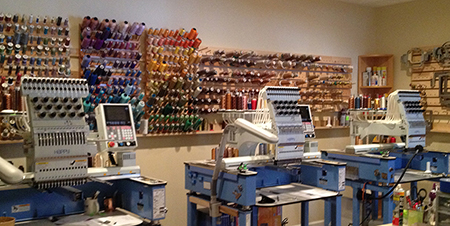 Our embroidery is run on three Happy 15 needle single heads at home and two 80 pound "portable" Happy Voyagers that we bring to shows. With a variety of special hoops, we can embroider large designs on many types of surfaces: shirts, towels, tote or sports bags. Many requests have not been simple, but the machines have been able to handle anything I have the ingenuity to tackle.
One of our favorite products is the Picnic Time sports chair that is so popular at dog shows. After a few dozen, we finally figured out an efficient way of embroidering them and love seeing shiny metallic thread in large letters celebrating kennel names, often with puppies portrayed around the text.